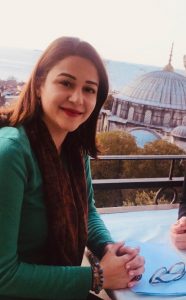 Elif Selin Çalık is a journalist and independent researcher. She took part as one of the founder of In-Depth News Department on Anadolu Agency. She hold BSc in International Relations and Literature at Ankara and Selcuk University and MA in Cultural Studies at International University of Sarajevo. She gets her second MA in Global Diplomacy at SOAS, University of London.In 2017, Bonn, she observed the decision makers' role on UN Sustainable Development Goals and climate change.
She served as a cultural envoy at Sarajevo Yunus Emre Cultural Institute between 2012-2015 and worked as an expert at Ministry of EU Affairs – Republic of Turkey in 2009.
She is an experienced moderator at international conferences and high-level panels, facilitating informative and dynamic debates on complex global issues such as diplomacy (esp. Cultural and public diplomacy), human rights, freedom of speech, peace and security and sustainable development (UN Goals) and renewables.