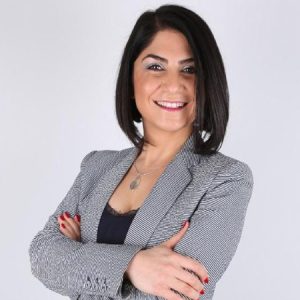 Leyla Bilen graduated from Bilkent University, Department of English Language and Literature, in 2003. She successfully completed English Language Teaching Pedagogical Formation Program at Hacettepe University, in the same year. She started her business life as an English language teacher and then, had a variety of work experience in large scale companies and holdings. During her career, Miss Bilen served as coordinator, administrative assistant, interpreter and trainer in the projects carried out under the Prime Ministry, ISKUR and European Union.
In 2006, while she was working at Net-Urart Holding in Antalya International Airport, as a sales representative, she became the best trainee at Best Selling training and then, the best seller at the duty-free shop, three times in a row. She won various prizes there and represented Turkey at 'Best Selling Project' throughout the world. From then on, Bilen started to take interest in coaching, human resources, human psychology and the fields related to the human at the center. After she had gained the right to receive Best Coaching training and internship due to her successes in the field of Perfect Sales Techniques at Six Steps, she started to provide trainings and consultancy in related fields.
In 2009, she came to Izmir once she had been accepted by Dokuz Eylul University to have her master degree education on Human Resources Program. While she was having her education, she had the chance to convey her knowledge and experience in personal and corporate development activities to the institutions and organizations. She started energy healing studies with Reiki and continued with Cosmic Energy, Deeksha, Ra-Sheeba, Kundalini Reiki Master, Theta-Healing and Shamballa MDH Grand Master trainings. She trained on 'Life Coaching', 'Advanced Coaching Skills', 'NLP (Neuro-Linguistic Programming) Techniques', and Coaching and Mentoring in Human Resource Management Program at Dokuz Eylul University Continuing Education Center, in between 2010-2015.
In 2011, she served as a training coordinator in the 'Job and Vocational Counseling Project'. Between 2011-2014, she participated in the deepening and healing processes at Oneness University, in India, while she was acting as Turkey's interpreter there, as well. In 2012, Bilen served as the Human Resources Manager of the Medical Park Izmir Hospital. In May 2014, she was chosen by the British Council and the National Agency of Turkey, as one of two representers of Turkey, who got youth pass administration to organize and manage Erasmus Plus future projects of entrepreneurship in the field of international youth cooperation, first in Adrasan and then in Scotland.
She is currently working as a Professional Coach, Trainer and Human Resources Consultant at the overland and international level. In November 2017, she successfully passed all of the exams and performance processes of Vocational Qualification Institution and got 'Vocational Qualification Identification' as a professional coach. So she has become one of the leading coaches certified and administrated by the country nationally and internationally.
She is currently going on training on fields of life and education coaching, spiritual development, NLP, EFT (Emotional Freedom Techniques), breath and meditation techniques, individual and corporate development, human resources fields including performance, motivation, training, time and stress management, leadership and mentorship. She is being invited from inland and international companies in accordance with the demands of various centers and institutions for learning and development activities, trainings and seminars. Bilen, who is the Izmir Representative of Federation of Internet, Media and Informatics and Bilkent University Alumni Association, participates as a live broadcast guest in TV programs published in local and national channels in certain time periods and shares information in the fields on which she is competent.
She is the author of three books, titled 'Kaderinizin Rengi Karakterinizde Gizli', 'Degisim ve Donusum Gunlugum' and 'Degisim ve Donusum Kartlarım', published in 2015. In addition to her own books, she was one of the authors of the book Communication Studies of 2017, with the unit, 'The Current Motto of Interpersonal Communication: Coaching'. She took place with her life success story called 'Amazon of Mardin', in the audiobook project 'Ses Ver İlham Ver'. She is about to complete her master thesis called 'Coaching Approach in Human Resources Management', and planning to graduate in June 2019.
Leyla Bilen has added many references to her professional career life of 16 years including public and international institutions, private companies, universities and development centers. She also provides human resources and international investment consultancy. She defines herself as a 'director of change and transformation', and thinks that her path will surely intersect with the ones who have progressed by taking the decision of change.